History
Adult Swim started off as a spin-off block of cartoon network based on the success of an earlier show, Space Ghost Coast to Coast. The first show aired on this block was Home Movies on September 2, 2001 at 10:00p. The name comes from a term for a lifeguard's break. The children can't be trusted to swim by themselves, so they are kicked out, and only the adults can swim, hence "adult swim". The first anime show broadcast was Cowboy Bebop. On October 5, 2003, it seems it decided to have repeat block 11pm/2am part that it regained until vh1 expanded on [as]. On March 28, 2005, TBS split Cartoon Network and Adult Swim to clarify the Nielsen Ratings System for 7 Hours limited edition for every shows on seperated channel since block has finished until 2001 to 2005. October 2, 2005, regained at 10pm to 6am for unexpected return since black text bumpers has stopped until only uses on August 7, 2003-October 1, 2005, until 2001-2003; 2005-2008; 2008-2010; 2013. Early shows from this period include Aqua Teen Hunger Force, The Brak Show and a revival of Mission Hill, from The Walt Disney Company. Adult Swim's production company is Williams Street Studios. William Street have also produced Sony's Toonami and Miguzi blocks. It usually plays American TV series and shorts aimed toward adults. They also air a wide variety of Japanese anime, original video animation and movies. Adult Swim's promotions are targeted toward people who are college age, usually their 20s and 30s. Adult Swim has often been known send representatives to colleges around the US and hand out posters to promote the block. This Saturday night action block has seperated by TBS instead of comedy on February 23, 2002
Adult Swim Video
On September 16, 2005, Adult Swim launched the Friday Night Fix, a web-only broadcaster that would let fans watch any show that Adult Swim selected to air online. The Friday Night Fix was named for the fact that it would let fans view shows on Friday nights, when the block did not air. The online system only aired when Adult Swim aired from 11:00p to 6:00am. On March 27, 2006, the name was changed to "Adult Swim Video", and it was to be aired at all hours and at 10:30pm to 6am for 7.5 hours. 
Ratings
Adult swim was rated #1 for Delivery of adults 18-34, adults 18-24, men 18-34, and men 18-24. According to Nielsen Media Research, Adult Swim set new viewership records among men over 18 in 2005, 2006, and 2007. The ratings are the same as stated on the Adultswim.com's message board.
Programming
Merchandise and Media Offerings
Video Games
Adult swim has joined with Midway games and created video games for many of the shows. For Aqua Teen Hunger Force, there is a video game called Aqua Teen Hunger Force Zombie Ninja Pro-Am which came out for the Playstation 2 console on November 5, 2007. For Harvey Birdman, Attorney at Law there is a game Named after it for the Playstation 2, Playstation Portable and Nintendo Wii. Other various games can be found on Adultswim.com. 
Music
Adult Swim is partners with the record label Stones Throw Records. The bumpers and other media use the artists Madlib, Oh No, and J Dilla. In 2006, both Stones Throw and Adult Swim created a co-production album entitled Chrome Children. Other various Electronic music have used artists on Warp Record. They used the artists Boards of Canada, Chris Clark, Jackson and his Computer Band, and Flying Lotus. Additionally, from the Normrex label in New York is featured music of artist Machinedrum. During the bumpers they would have music playing as accompaniment with the music would be by Fat Jon and J Dilla. The network was also part of an earlier studio LP with DANGERDOOM, a musical collaboration between music producer Danger Mouse and rapper MF DOOM, entitled The Mouse and the Mask. In February 2007 Adult Swim and Definitive Jux created an EP online called Definitive Swim. In 2006 Adult Swim and Chocolate industries created an online download called Chocolate Swim. In April 2008, Adult Swim and Ghostly International released an indie electronic album Ghostly Swim, featuring artist from the label such as Matthew Dear and Dabrye. In 2006 Adult swim was sponsoring Sonic for their new downloadable album called World Wide Renewal Program. The album features hip hop by artists like Hollywood Holt, Kovas, and the Cool Kids, among others; and some experimental beat tracks without vocals. In October 2008, Adult Swim took the album off line. In the same month, Adult Swim released African Swim to coincide with Ubisoft's release of Far Cry 2. 
Video On Demand
In the early 2004 era some of Adult Swim's original series have been shown in the comedy section of any digital cable provider. In the action section their are anime's from adult swim. Series including Aqua Teen Hunger Force and The Venture Brothers. These series' are available on itunes. On November 22, 2006 the Adult Swim shows are able to be watched on an Xbox Live Video Marketplace. 
Podcasts
Adult Swim used to offer podcasts on itunes from March 21, 2006 to September 19, 2006. The podcasts featured behind-the-scenes segments of shows and exclusive content; such as an interview with Saved by the Bell's Dennis Haskins and a look at Brendon Small and Tommy Blacha's Metalocalypse. The podcast reached number two in iTunes' ranking of most downloaded podcasts. 
Website [Adult Swim]
Adult Swim runs a website that holds news about the programming. The webstite is called Adultswim.com. Adultswim.com has an active message board where people can ask questions and the Williams Street Studio's crew answers them. 
Significant Schedule Changes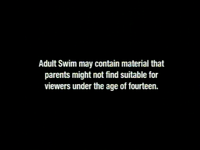 In the start of each 9:00 PM, Adult Swim has always shown a parental advisory sign with a message saying "Adult Swim may contain material that parents might not find suitable for viewers under the age of fourteen/seventeen". The way the message is said has often varied, but states the same. In its earlier years, Adult Swim aired exclusively on Thursdays and Sundays. Sundays were used for premieres, Thursdays for reruns. Originally beginning on December 28, 2008 up at 10p every night. This began with
The PJs
kicking off every day until
King of the Hill
took over New Year's Day 2009. On August 1, 2008, Adult Swim started a lineup called "Old School Night", which aired on Fridays due to the success of the first one. The regular lineup started August 22, 2008. They showed, among others,
Sealab 2021
,
The Brak Show
,
Home Movies
,
Cowboy Bebop
, and
Space Ghost Coast to Coast
, the first shows to air on the block. In addition to that they added the old-school "swimming pool" bumps before and after commercial breaks. 
On August 22, 2008 Adult Swim also started to make Saturday and Sunday an all-anime block produced by Williams Street. After that, they got incredibly bad ratings so they brought back the older Sundays. Adult Swim still mentions this snarkily whenever a viewer tries to suggest a large anime schedule change. For example, when Adult swim began trying to air movies on Friday, the bumps preceding it would say not to suggest anime, stating "You guys don't watch it anyway". On October 20, 2008 [adult swim] started the Adult Swim "Bug" at 11p. That was when they changed the old logo to the sleeker, website version, or the screenbug. On December 27, 2010, the starting time was changed to 9/8c, with American Dad! using King of The Hill's original time slot and returned on October 26-November 29, 2015; September 26-December 5, 2016; October 1, 2018-Present. Recently, the starting time was changed to 8/7c on March 31, 2014 on Show Called Sit Down and Shut Up Premiered on November 16, 2014.
App
The App Store's Adult Swim app is rated +17.