We're Getting Mutants in the MCU - The Loop
Play Sound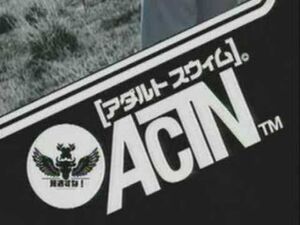 Adult Swim Action, commonly stylized as AcTN, was both a programming block and the name given to action animation, generally anime, aired on Adult Swim from 2002 to 2012. The name was dropped after the Toonami block was revived on Adult Swim on May 26, 2012.
Programming
Shows
Movies
The Animatrix - premiered April 17, 2004
Bleach the Movie: Memories of Nobody - premiered September 5, 2009
Bleach the Movie 2: The DiamondDust Rebellion - premiered December 5, 2009
Cowboy Bebop: Knockin' on Heaven's Door - premiered September 3, 2005
Escaflowne: The Movie - premiered September 10, 2005
G.I. Joe: Resolute - premiered April 25, 2009
InuYasha the Movie: Affections Touching Across Time - premiered May 21, 2005
InuYasha the Movie 2: The Castle Beyond the Looking Glass - premiered August 27, 2005
InuYasha the Movie 3: Swords of an Honorable Ruler - premiered August 12, 2006
InuYasha the Movie 4: Fire on the Mystic Island - premiered December 23, 2006
Kakurenbo: Hide and Seek - premiered October 29, 2005[23]
Metropolis - premiered May 14, 2005
Mobile Suit Gundam: Char's Counterattack - premiered January 4, 2003
R.O.D: Read or Die - premiered October 23, 2004
Marathons
Yu Yu Hakusho Marathon - July 6, 2002
Yu Yu Hakusho Marathon - July 13, 2002
Cowboy Bebop Marathon - July 20, 2002
Cowboy Bebop Marathon - July 27, 2002
InuYasha Movie Marathon - December 23, 2006
Bleach Marathon - December 30, 2006
Astro Boy Christmas Day Marathon - December 25, 2007
Astro Boy 4th Of July Marathon - July 4, 2009
Bleach Christmas Eve Marathon - December 24, 2011
Bleach New Year's Eve Marathon - December 31, 2011
History
After the successful launch of the Adult Swim programming block in September 2001, Cartoon Network expanded the brand to include an additional block of programming. Dubbing the new block Adult Swim Action, it differed from Adult Swim by offering adult oriented action animation as opposed to comedies. The 3-hour block (11 pm - 2 am) launched on Saturday, February 23, 2002 and the initial offering of programs consisted entirely of Japanese anime series including: Yu Yu Hakusho, Cowboy Bebop, Pilot Candidate, Gundam 0083, Outlaw Star, and Tenchi Muyo!.[2]
The block was similar to the already popular Toonami block, but consisted of shows that could not be aired weekday afternoons. Some of these shows, although edited for content, carried TV-14 ratings which were much higher than Cartoon Network typically aired at the time. To prevent the younger viewers of Cartoon Network from watching these shows the Adult Swim Action block was packaged with bumps at every break to notify viewers of the adult-targeted content. In addition, the block was only promoted on Cartoon Network late at night.[2]
Adult Swim Action aired its first marathons in July of 2002, Yu Yu Hakusho took over the block on July 6th and 13th followed by two Cowboy Bebop marathons on the 20th and 27th. Mobile Suit Gundam: Char's Counterattack was the first movie aired on the block when it premiered January 4, 2003. Beginning on January 13, 2003, Adult Swim began airing five nights a week, Sundays through Thursdays from 11 pm to 2 am. Saturday Nights were dropped and Adult Swim Action began airing Monday through Thursday, filling the midnight to 2 am chunk of Adult Swim.
Beginning on October 5, 2003, Adult Swim was expanded from a three hour block to a six hour block (11 pm - 5 am), with the first three hours repeating each night. Adult Swim Action returned to Saturdays (11 pm - 5 am) on April 17, 2004 with the premiere of The Animatrix.[24] Subsequently the Monday through Thursday schedule was split evenly between Comedy (11 pm - 12:30 am; 2 am - 3:30 am) and Action (12:30 am - 2 am; 3:30 am - 5 am). Saturdays remained as the main Adult Swim Action night but would also include small amounts of Adult Swim Comedy at times.
On March 28, 2005, Adult Swim was split off from Cartoon Network making them separate channels for Nielsen ratings and demographic purposes. This split added an extra hour to Adult Swim, Saturday through Thursday, which was taken over by Adult Swim Action by May.[25] It was around this time that bumps for Adult Swim Action began using the "AcTN" branding.
Adult Swim gained Fridays on July 6, 2007 and began airing 7 nights a week.[26] The programming balance between Adult Swim Action and Adult Swim Comedy stayed fairly even until March 2008 when, other than Saturdays, anime only appeared during the last hour of Adult Swim (5-6 am).
On November 8, 2008, Adult Swim Action Saturday premiered the first schedule that did not follow the standard Adult Swim model of having the second half of the block be a rerun of the first half. After two hours of Adult Swim Comedy, the next five hours consisted of Adult Swim Action. This would become the new norm for Adult Swim Action until its cancellation in 2012. In fact, anime was removed from every other day of the week except Saturday in January 2009. The November 8th schedule consisted of:[27]
To celebrate Adult Swim's annual tradition of April Fools pranks in 2012, Adult Swim Action was transformed into Toonami for the night, airing classic Toonami shows instead of the regular schedule. Adult Swim Action then resumed airing; however, due to the positive fan response that came from Toonami's surprise revival, plans were almost immediately put in place to revive the Toonami block on Adult Swim. Adult Swim Action aired for the final time on May 19, 2012 and was replaced the following week by Toonami.[28] The final Adult Swim Action lineup consisted of:
External Links
References