We're Getting Mutants in the MCU - The Loop
Play Sound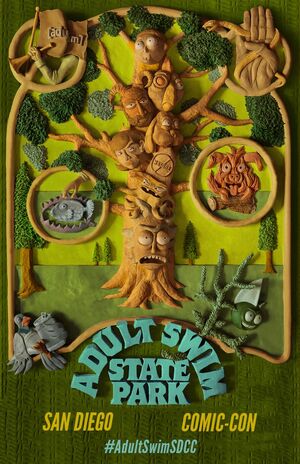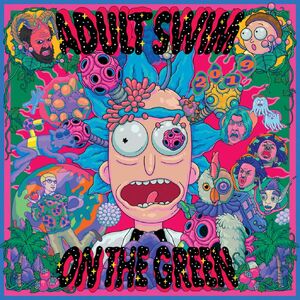 Adult Swim On The Green is an event in which guests are gathered in a large park, where they play games to win prizes, and exclusive merchandise which can not be sold elsewhere can be purchased, the event takes place during San Diego Comic Con since at least 2016.
A touring version of the event began in 2017, Zack Fox hosts the event, with a DJ, while playing games, and trivia.

During the event, a presentation known as "Things You May Have Never Seen" is shown which can be known to air episodes of series such as Dream Corp, LLC, and The Venture Bros. before they air on television.
2018 San Diego Comic Con
In 2018, the event took place behind the convention center, and was camp themed. No Comic Con badge is required for entry. The event included a wood carver cutting wood into the shape of a Plumbus, motorized (wheeled) boats which ran on a set course. a camp store, and arts and crafts section and evening presentation of "Things You May Have Never Seen."
The event was streamed on Adult Swim's website.
2019 Comic Con
The event returned to the 2019 Comic Con, dropping the camp theme, and featured an exclusive look at Genndy Tartakovsky's Primal, season four of Rick and Morty, a live stage play, Ultimate Mortal Kombat 3 Live by Wham City, a Cosplay Cup, Anamanaguchi, and an As Seen on Adult Swim live auction. the event was again streamed on Adult Swim's website, with the hosts of their streams hosting the weekend.