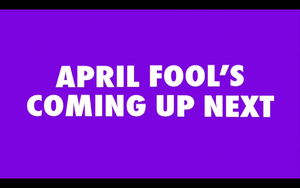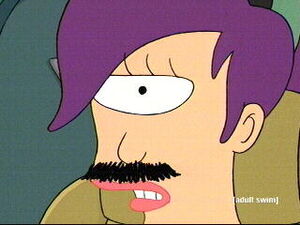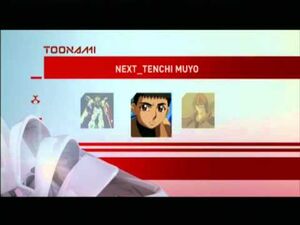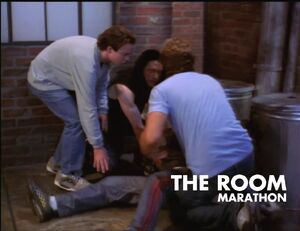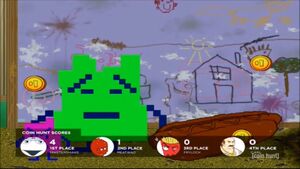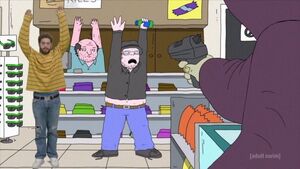 Adult Swim has an annual tradition of celebrating April Fools' Day by tricking and fooling their audience by altering programs or airing different and obscure programs.
2004: all of the regularly scheduled episodes were aired with random mustaches drawn on the characters; however, the next night the episodes were aired again this time without the random mustaches.
2005: Adult Swim aired an early, unfinished version of Squidbillies, instead of Robot Chicken.
2006: Adult Swim aired old re-runs of Mr. T and Chuck Norris: Karate Kommandos, and then aired episodes of Fullmetal Alchemist and Ghost In The Shell: Stand Alone Complex with fart noises added to the dialog.
On March 31, 2007: Adult Swim aired every episode of Perfect Hair Forever in reverse order. The episodes were digitally degraded to look like several generations-old videotapes with grammatically incorrect subtitles in Engrish. At one point, the subtitles shown on screen were actually for an Aqua Teen Hunger Force episode.
On April 1, 2007: Adult Swim had been advertising that it would be airing Aqua Teen Hunger Force Colon Movie Film for Theaters in its entirety on April Fools' Day. Technically, they made good on their promise by showing the first two minutes (which had long been available on the movie's website) full-screen and the entire rest of the film in a very small picture-in-picture window with its sound played over SAP.
2008: Adult Swim aired a night of unfinished sneak peeks of future upcoming shows in place of their typical programing.
2010: Adult Swim re-aired The Room for a second year in a row, with bumps featuring Tommy Wiseau being interviewed on Space Ghost Coast to Coast. Sex scenes remained censored, but the parental rating was raised to TV-MA.
2011: The Room was aired once again with the TV-MA rating and was followed by a 15-minute special titled Earth Ghost, a CGI version of the Lowe Country pilot shown on Adult Swim Video in 2007.
2012: Adult Swim replaced its lineup with Toonami. After first playing the opening sequence of The Room, the scene switched to the Toonami host TOM noting that it was April Fools' Day before introducing that week's scheduled episode of Bleach. The Toonami bumps and programming would continue throughout the night, featuring Dragon Ball Z, Mobile Suit Gundam Wing, Tenchi Muyo! Ryo-Ohki,Outlaw Star, The Big O season 1, YuYu Hakusho, Blue Submarine No. 6, Trigun, Astro Boy, and Gigantor. T.O.M. also presented a review of Mass Effect 3 and promoted the recent DVD releases of the series featured. Subsequently, on May 16, 2012, Adult Swim announced via Twitter and later by a press release that Toonami would return to Adult Swim on May 26, 2012 as a regular weekly Saturday night programming block.
2013: Adult Swim featured images of cats throughout much of its programming. All of the bumps contained videos and images of cats, while the episodes of the live action shows aired that night had cat faces covering up the faces of the actors. The [adult swim] logo was replaced with "[meow meow]".
2014: Adult Swim premiered an eighth episode of Perfect Hair Forever, seven years following the series finale. This was followed by an unannounced Space Ghost Coast to Coast marathon featuring creator-chosen episodes (including the full version of "Fire Ant", which has rarely been shown on TV). During the marathon, bumps were included between episodes showing outtakes and commentary from the writers and staff. The entire stunt was replayed all day the following day without advertisements on the network's live feed webcam.
2015: Adult Swim aired a marathon of Aqua Teen Hunger Force, featuring a version of the "Coin Hunt" game from Adult Swim's online Fish Center program.
2016: advertisements were shown for the April Fools broadcast, recapping their 12-year history of pranks and hyping up that year's prank. When midnight did occur, regular programming played, with the implication being that the prank for 2016 was that there was no prank.
March 31, 2017: all of the regularly scheduled episodes were aired, but this time, the voice switching gimmick was used in which the proper voices for those shows were replaced with alternate speaking voices, laugh tracks, robotic voices, and other voices along with various sound effects.
April 1, 2017: in another rare two joke-fer, the evening portion of Adult Swim was replaced with the first episode of Rick and Morty's third season unannounced, the first Season 3 episode "The Rickshank Redemption" aired repeatedly until midnight.
March 31st, 2018: Adult Swim premiered the first episode of FLCL: Alternative in Japanese, with English subtitles, followed by the film Mind Game, also in Japanese with English subtitles. TOM and Sara's spoken dialogue was also dubbed into Japanese, including a review of the game Nier: Automata.
April 1st, 2018: On April 1, 2018, in yet another rare two joke-fer, Adult Swim aired normally until 11:00 p.m. when it started airing a animated parody of Rick and Morty titled "Bushworld Adventures", created by Michael R. Cusack. It looped three more times until midnight, pre-empting Rick and Morty and two Mike Tyson Mysteries reruns in the process. All of Adult Swim's nature-themed bumpers that aired throughout the hour were Australian themed. This special short was also simulcasted on a loop in a marathon stream on adultswim.com all night.
2019: Regular programming was replaced, beginning at midnight, with the debut of Gemusetto Machu Picchu, a 6-hour-long anime parody. It was simulcast both on TV and on Adult Swim's online livestream.
2020: Regular programming was replaced again. The intro for a second season of Gēmusetto Machu Picchu was played, but it would be interrupted by Post Malone, who would host several bumpers (along with Adam and Swae Lee later on in the block) introducing stealth premieres of new seasons of Primal, Dream Corp, LLC, Tigtone, The Shivering Truth, Robot Chicken, Lazor Wulf, 12 oz. Mouse and Tender Touches. The stealth premiere block also showcased pilots of new shows YOLO: Crystal Fantasy, JJ Villard's Fairy Tales and Smiling Friends. Malone would also make silent cameos on said shows via green screen.
Community content is available under
CC-BY-SA
unless otherwise noted.