We're Getting Mutants in the MCU - The Loop
Play Sound
EPISODE GUIDE




CHARACTERS

•

MORE

Premiere
April 8, 2018
Seasons
2
Episodes
20
Ballmastrz: 9009 is a animated series created by Christy Karacas, a creator and writer on Superjail!.
The series pilot was produced in 2015, and ordered to series, with a premiere date of April 8, 2018. This quarter-hour animated series is created by Christy Karacas (Superjail!) and produced by Titmouse. In July 2019, the show was renewed for a second season, which premiered on February 24, 2020.
Plot Summary
Thousands of years, into the future no one cares about traditional sports anymore. The only game that matters is "The Game" created by a mysterious demigod cyborg named Crayzar. The Game is which two teams try to kill each other using a ball. Obstacles and challenges test the physical, mental, and psychological limits of the players while entertaining the masses. The player or team that masters their Ball will master The Game in the most spectacular action sport ever played.
The main series follows a former captain from the Boom Boom Boys, Gaz Digzy, who is demoted to play and help the worst team, The Leptons, to win once and victory.
Characters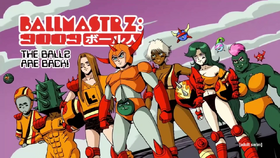 Gaz Digzy (Natasha Lyonne)- a former captain of the Boom Boom Boys, who wrecked her own career due to heavy drinking and foul-words and cause her to be out of shape and get various diseases. Crayzar put her back in the game if she can help the Leptons to win one game, she agree so she can reclaim her glory, then they won the game for the first time, Gaz decide to stay with the Leptons as their new captain. In Season 2, it turns out she's from a rich family who owns a company business and her full name is Gazmerelda Digzfield.
Ace Ambling (Jessica DiCicco)- An orphan boy and a lead player of the Leptons. He is bright, cheerful, and optimistic, but can lose his patience when things don't go as planned. The only team player who can transform to BallMastrz, along with Babyball.

DiCicco also voiced Duleena Duneeda (but her friends call her Dee Dee)A team player in the Leptons, she speaks in a soft voice and cares for her teammates, but will occasionally explode in a rage, like when Leto turns her down with her love affections with him.
Babyball (Dana Snyder)- The robotic ball in the Leptons.