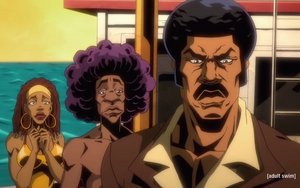 Black Dynamite is an African American martial artist, former CIA operative, Black Revolutionary, Vigilante, Anti Hero, Pimp, Orphanage runner, who enjoys kicking ass and taking on missions to ensure justice or sticking it to "The Man". His weapon of choice is the Smith & Wesson Model 629 Classic or nunchucks.
Black Dynamite is often portrayed as near (or completely) invincible, serious, angry, caring and some what short-tempered. He cares about the orphans and whores in his care, through his method of raising the orphans doesn't make him to likable to them and often talks about himself in third person.
Community content is available under
CC-BY-SA
unless otherwise noted.