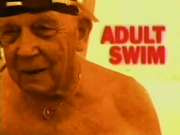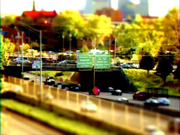 The Bumpers, or "Bumps" for short, which are shown before and after each commercial break, were originally shots of senior citizens swimming and doing random pool-related activities in public pools. The lifeguard is often heard talking through a megaphone and saying things such as "Adult Swim, all kids out of the pool!", and announcing the forthcoming TV show. The logo was, basically, "ADULT SWIM" written in large red capital letters. On Saturdays, the shows were announced by a computer generated voice. Adult Swim's theme music was "D-Code", performed by Melbourne artist Dust Devil. The song was a remix of "Mambo Gallego" by Tito Puente, Sr.
On January 12, 2003, they replaced the swimming old people with animated safety manuals demonstrating techniques with the characters of the upcoming show. The logo was also changed to "adult swim" in red letters in a black circle with a yellow penumbra. On May 25, 2003, Adult Swim began showing black intertitle cards with white text. These cards would comment on current events, staff opinions and, most often, just random stuff. For the action/anime shows they use pictures of various outdoor scenes using tilt-shift photography, an example of which can be seen at right. The most recent ones contain a reference to Adult Swim or AcTN in the scene. The bumps can also commemorate a recent passing. The person's name fades in, along with his or her Date of birth and death, no music will be playing, and the words will fade out in a slower manner. Some tributes include Kurt Vonnegut, Bernie Mac, Isaac Hayes and Dom Deluise.
Starting with the premiere of King of the Hill on January 1, 2009, Adult Swim began to air unique bumps parodying the bumpers some shows air sponsoring a show and it's closed captioning. These are often stated by the actors from the show itself (in King of the Hill's case, it was Mike Judge as Hank Hill). Acknowledging this, Adult Swim aired bumps with country music playing in the background as an announcer states "King of the Hill is brought to you by (Adult Swim/Strickland Propane/Sugarfoot's BBQ/etc.)." Actual sponsorship bumps play on Adult Swim much less frequently.
Community content is available under
CC-BY-SA
unless otherwise noted.