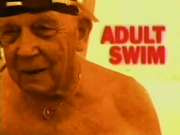 The Bumpers, or "Bumps" for short, which are shown before and after each commercial break, were originally shots of senior citizens swimming and doing random pool-related activities in public pools. The lifeguard is often heard talking through a megaphone and saying things such as "Adult Swim, all kids out of the pool!", and announcing the forthcoming TV show. The logo was, basically, "ADULT SWIM" written in large red/or yellow capital letters (or a alternate version of the logo featured "adult swim" in red lowercase letters in a black circle with a yellow penumbra). On Saturdays for the Action Block starting February 23, 2002, the shows were announced by a computer generated voice and the bumps featured clips of the shows. Adult Swim's main theme music was "D-Code", performed by Melbourne artist Dust Devil. The song was a remix of "Mambo Gallego" by Tito Puente, Sr.
On January 12, 2003, they replaced the swimming old people with animated safety manuals demonstrating techniques with the characters of the upcoming show. The action block also received these style bumps but used generic fighting characters, with the intro of the action shows having a bump featuring clips of whatever show was coming on. The alternate logo was also slightly changed.
On May 25, 2003, Adult Swim did another rebrand which was rather simplistic. They changed the logo to [adult swim] and began showing black intertitle cards with white text. These cards would comment on current events, staff opinions and, most often, just random stuff. They would also show the night's schedule with Indian Music ("Mandeer" by Caccialanza / Dinesh / Luscombe) in the background. For the action/anime shows they featured text bumps with silhouette characters from whatever show was on, sometimes they moved around on the screen. At the end of the block was also a sign-off bump that went through a few of the albums that Adult Swim sourced their bump music from. The bumps can also commemorate a recent passing. The person's name fades in, along with his or her Date of birth and death, no music will be playing, and the words will fade out in a slower manner. Some tributes include Kurt Vonnegut, Bernie Mac, Isaac Hayes and Dom Deluise.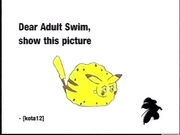 Thursday nights starting in August 2003 introduced "Dear Adult Swim" bumps where Adult Swim would respond to viewer questions (pulled from the now defunct Adult Swim Message Boards) in a mostly sarcastic or jokingly way. These featured black text on a white background. The format changed a bit slightly throughout the year but were mostly the same way. August 28, 2005 saw the end of Thursday nights being used specifically for Dear Adult Swim bumps as they started simply airing only a few of them as regular bumps on Sunday nights rather than dedicating a whole night to them. Later that year the format was changed to be like all the other text bumps using white text on a black background. In late 2012, the Dear Adult Swim bumps were replaced with Adult Swim responding to Tweets from Twitter.
The black & white text format is iconic and still mostly remains in use to this day. New text bumps are typically introduced every Sunday and run throughout the week. The original format in mid 2003 had different bumps each day of the week that were changed monthly.
On April 17, 2004. the Saturday night action block returned and got some new bumpers. These bumps featured footage of Tokyo with various filters and were specific for each show. The sign-off was also given a bit of an upgrade from the one in 2003 in which they still showed a list of the bump music artists, but with a Tokyo picture in the background to compliment the Action block style change. Animatrix, Cowboy Bebop, Trigun, Inuyasha, Wolf's Rain, FLCL, Big O, Case Closed, Witch Hunter Robin, and Lupin the Third all received bumps in this style.
In addition to the Tokyo bumps, in May 2004, Adult Swim introduced various still image bumps of random locations including (but not limited to) Parking Lots, Abandoned Buildings, Signs, or rundown vehicles. These aired mainly during the last hour of the Sunday Night block, but they also showed up at some points on other days. The Adult Swim is Your Friend bump was also introduced as the sign off for Sunday nights. The still image bumps changed periodically over the years and while it isn't the norm, they do still show some of them to this day.
On Saturdays starting on July 3, 2004, the Tokyo videos were replaced with still photographs of Tokyo that have a location and timestamp that the picture was taken at and the [adult swim] logo brackets focused around a specific object such as a Cloud, Mt. Fuji, or a Police Officer. Comedy shows were introduced to Saturdays on this night and those typically featured still images photoshopped with the Adult Swim logo and something related to the specific show. Examples being an image of a broken Computer Monitor with ASCII of Bender's face for Futurama, and a picture of the real Sealab 2020 board game but with stuff related to Sealab 2021 on the box. Venture Brothers also received bumps with the Venture Bros skull logo photoshopped on 1940s and 1950s NASA photos. The filtered Tokyo videos were still used on the weeknight Action block until January 5, 2005.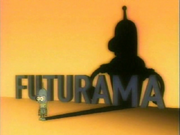 On January 8, 2005, the action block received an overhaul, and was now called Adult Swim ACTN. New bumpers were introduced, this time they were Animated scrolls or film reels which featured random characters such as a Bear, Sad Face, or a Wolf head with an arm sticking out. Sometimes they showed characters from the show that was on. They also had Japanese phrases usually just saying things such as "Adult Swim is Your Friend" or "Don't Miss It!", among other things. That night, Futurama and Venture Bros also got new bumps with still images of the characters from each show, Samurai Champloo also received similar styled bumps when that show was introduced in May 2005. On May 28, 2005, a new set of ACTN bumps made in a similar format to the January ones were introduced but typically had the things happening on a single screen rather than scrolling. They did occasionally use a few of the Tokyo still image bumps on Saturdays until June 9, 2007.
Adult Swim expanded to 6 AM on March 28, 2005, as a result of the block being siphoned off from its parent channel for the Nielsen ratings. A set of bumpers made to air from 5-6 AM was introduced at this time, including the infamous "The dawn is your enemy" bumper.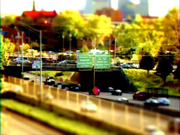 In July 2006, there were tilt-shift still image bumpers introduced to Saturday nights in the early half of the block featuring overhead views of streets in Atlanta and the TBS Building which Adult Swim's Headquarters are. A separate set for ACTN was introduced a year later on June 16, 2007 on Saturdays and then a few of them were added to weeknights in July 2007. They were also still using a few of the May 2005 ACTN bumps on weeknights. A major schedule change happened in March 2008 when Adult Swim removed all anime not part of the 5 AM block on weeknights. As a result, new still image bumps were introduced such as the infamous "Baggage Room" and "Swimbound" bumps, they also used some of the July 2006 tilt-shift bumps as well. ACTN's tilt-shift bumpers were still in use on Saturdays until May 2008 when they were replaced by bumpers with cut-out people pasted on city scenes. These bumps were only 5 seconds due to Adult Swim making more time for ads. A few of the cutout character bumps were added to the weeknight lineup in a 10 second format at 2 AM later that month as a result of the 5 AM slot being removed. November 2008 saw a change of the Saturday night schedule that made it so that it didn't repeat evenly. Along with this change, Adult Swim just continued to use the weeknight bumps as opposed to having a specific bump lineup made for Saturdays. Along with this, there would also be no more specific action bumps.
In October 2005, Gametap promos were briefly used, taking up the 3rd bump slot of each 30 minutes. In March 2007, ads for Super Deluxe started appearing during each commercial break, replacing the 2nd bump of each 30 minute slot. Later in the year, they also brought back Gametap promos alternating with Super Deluxe bumps every hour in those slots. This lasted until January 2009 where they reverted back to the respective bumps that the promos replaced. For example, even though there was no longer a weeknight anime block, they brought back the ACTN bumps that were originally replaced by Super Deluxe or Gametap promos.
Starting with the premiere of King of the Hill on January 1, 2009, Adult Swim began to air unique bumps parodying the bumpers some shows air sponsoring a show and it's closed captioning. These are often stated by the actors from the show itself (in King of the Hill's case, it was Mike Judge as Hank Hill). Acknowledging this, Adult Swim aired bumps with country music playing in the background as an announcer states "King of the Hill is brought to you by (Adult Swim/Strickland Propane/Sugarfoot's BBQ/etc.)." Actual sponsorship bumps play on Adult Swim much less frequently.
On January 31, 2010, an entirely new set of still image bumps were introduced and new ones came and went throughout that year. Along with this change, the 5-6 AM bumpers including "The Dawn is Your Enemy" were retired after almost 5 years. Also around this time, Adult Swim's schedule bumpers went from a plain black background to featuring city scenes.
Adult Swim switched to HD in October 2010, and the bumpers were upgraded to fit properly on a 16:9 screen. New HD still image bumps were introduced as well, some of which were remakes of older 4:3 bumps.
December 27, 2010 saw the block expand to 9 PM. With this schedule change, the "Adult Swim Is Your Friend" sign-off bumper was retired, and a host of new surreal bumpers were introduced. These mostly utilized stock footage, bizarre animations, or scenes from Off The Air.
On May 26, 2012, the Adult Swim Action block was replaced with the revival of Toonami, a rebirth of a block previously part of Cartoon Network from 1997 until 2008. It was hinted that this would happen due to the surprise April Fools Day 2012 event which featured Toonami style bumps alongside some older shows that were iconic in their day. Fans were excited and wrote to AS demanding more. Bumps were hosted by TOM as they were in the original Toonami on Cartoon Network. TOM announces the shows coming up, does Game Reviews, or occasionally gives motivational speeches. Originally bumps were just recycled footage from the TOM 3 era from 2004-2007. This era was dubbed as TOM 3.5 and went until mid 2013 where Toonami moved forward with a brand new version of TOM with bumps featuring a new look, along with this was the return of TOM's co-host, SARA. The overall look changes periodically.
On March 31, 2014, the block expanded to 8 PM. This coincided with the introduction of a new bumper package featuring the Adult Swim logo hidden in various nature scenes that were changed to reflect what season it was (i.e. you see bumps with snow in the Winter, and bumps showing Oceans in the Summer). In addition to that, every other hour had a disclaimer with a landscape background with music as opposed to the standard black. A few of the bumps introduced in December 2010 were still in use at 4 AM until the Summer of 2014. Later in 2014 also saw the introduction of "Adult Swim ID's" which are typically animations in different styles, sort of reminiscent of the December 2010 style bumps but instead aired in the middle of Commercial breaks rather than as bumps, until March 2017 where they were used as bumps. March 2017 also saw a slight change in bump airing format where the text bumps started airing at random times throughout the night rather than for a fixed set of hours, sort of giving more spotlight to the ID's and the nature scenes.