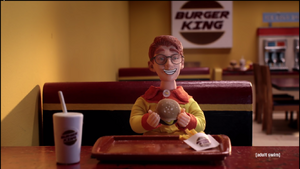 The Burger King Big, Über, Network Sampling was an online popularity contest run by Burger King and Adult Swim in February 2010. The contest was designed to give fans a voice (or choice) in choosing a pilot to become a full-fledged [as] show.
The Contest
The contest consisted of 8 potential pilots (or 9, but one of them wasn't from the contest), 1 previously rejected pilot and 7 new offerings, pitted against each other in 4 head-to-head contests. Winners then moved on to a quarter-final round, before the two top pilots faced off in a final round.
The Pilots
Gumball (only in the UK, but not actually from Burger King Big, Über, Network, Sampling)
Community content is available under
CC-BY-SA
unless otherwise noted.