We're Getting Mutants in the MCU - The Loop
Play Sound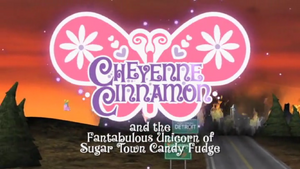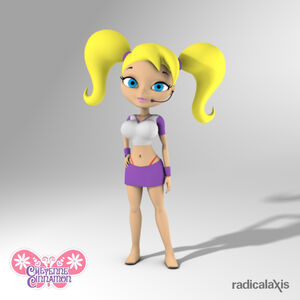 Cheyenne Cinnamon and the Fantabulous Unicorn of Sugar Town Candy Fudge (often shortened to just Cheyenne Cinnamon) is an animated series from Aqua Teen Hunger Force creator Dave Willis.
Synopsis
The series revolves around the titular Cheyenne Cinnamon, a teenage pop musician, attempting to help regular people solve problems such as racism and teen pregnancy through the power of love and pop songs. One of the main sources of humor is the show's portrayal of Cinnamon as a stereotypical pop singer, showing her to be dimwitted and blissfully unaware of the world around her, as well as the series' lampooning the stereotypical "clean cut role model" image given to many young pop musicians. Cinnamon's outward image is pure and loving, but in reality she is far from this.
The series is set in the Candyland-esque world of Sugar Town Candy Fudge on the outskirts of Detroit, Michigan. Characters in Sugar Town Candy Fudge all appear to be sweets and candy, including Cinnamon's agent/manager Gummi, a gummy candy shaped like a small, fat man, and other background characters including talking chocolate rabbits and gingerbread men.
Pilot
A pregnant 12-year-old named Emily has fallen in love with her softball coach, who also happens to be the father of her unborn child. Her parents don't approve of the relationship, and Emily runs away. Cheyenne Cinnamon, teenage pop sensation, sees Emily's suffering, and rides in on her obese flying unicorn to "save" Emily. After bringing Emily to Sugar Town Candy Fudge, and taking a quick detour to Cocaine-O, the cocaine-spewing volcano, Cheyenne gives Emily some useless advice before sending her on her way.
The episode then fast-forwards a few years to show Emily, now a teenage mother of 5 or 6 infants, living with an apparently short-tempered man (who is not her former softball coach). Cheyenne rides in on her unicorn and whisks Emily away to Hollywood party. An intoxicated Cheyenne drops a cigarette in the eyes of her unicorn, causing it to crash to the ground. The crash leaves Emily unconscious. Gummi, Cheyenne's agent/manager, arrives on the scene questioning Cheyenne about how intoxicated she is. The episode ends as Gummi calls the police, not to report the accident, but to report the unicorn as stolen as to cover Cheyenne's tracks and frame Emily.
Cast
Neko Case

as Cheyenne Cinnamon

Kristen Schaal

as Emily

mc chris

as Gummi, Gingerbread Bouncer #2

MF Doom

as Big Chocolate Bunny
T-Pain as Gingerbread Bouncer #1
Broadcast History
The show was first seen as part of the Adult Swim in a Box DVD release in October 2009. The show was then entered into the Burger King Big, Über, Network Sampling online popularity contest along with seven other hopeful pilots. Cheyenne Cinnamon eventually won the contest and was given airtime on March 29, 2010. The show was under consideration for a series run, however nothing came from it.