We're Getting Mutants in the MCU - The Loop
Play Sound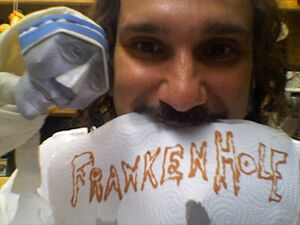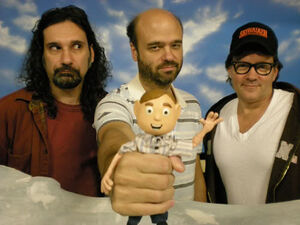 Dino Stamatopoulos (Born December 14, 1964) is an American television comedy writer, actor and producer. His works include Mr. Show, TV Funhouse, Mad TV, The Dana Carvey Show, Late Night with David Letterman, and Late Night with Conan O'Brien.
In the Adult Swim world, Stamatopoulos is known for his work on Tom Goes To The Mayor, Moral Orel, The Drinky Crow Show, and Mary Shelley's Frankenhole.
Tom Goes To The Mayor (2004-2005)
Stamatopoulos' first experience with Adult Swim came when he served as an executive producer and creative consultant for the first season of the Tim and Eric comedy Tom Goes To The Mayor. Along with being the executive producer and creative consultant, he also helped write the script to Episode 5, Rat's Off to Ya.
Moral Orel (2005-2008)
Stamatopoulos then went on to create the stop motion comedy Moral Orel. He served as not only the creator, but also as a writer, director, and executive producer. Stamatopoulos also served as the voice actor for numerous one-time characters. Quite possibly the most obscene show on Adult Swim, three of the first season's episodes were held back for containing content that was considered to offensive by the Standards & Practices board at Adult Swim. Never the less, the show developed a large following, and ran successfully for three seasons.
The Drinky Crow Show (2008-2009)
After Stamatopoulos ended Moral Orel, he was cast in the Tony Millionaire project The Drinky Crow Show. He provided the voice of Drinky Crow, the main character, and main villian Lieutenant Vronchy. Unlike his last two jobs, Stamatopoulos did not serve as a writer or producer.
Mary Shelley's Frankenhole (2010)
Stamatopoulos' latest project is Mary Shelley's Frakenhole, a new stop-motion comedy simaliar in design to Moral Orel. The show is a supernatural themed comedy about Dr. Victor Frankenstein, who has created time-traveling portals called Frankenholes. The show's first season premiered on June 27, 2010.