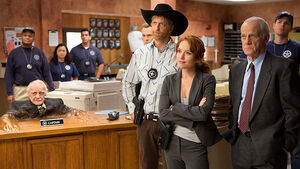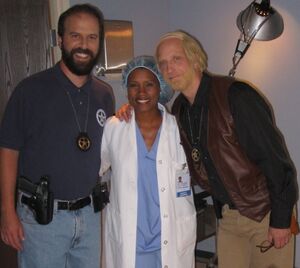 Eagleheart is an action-comedy television series that premiered on February 3, 2011, on Adult Swim. Eagleheart is produced by Conan O'Brien's production company, Conaco, and stars Chris Elliott as Chris Monsanto
Plot
Eagleheart follows US Marshal Chris Monsanto as he fights crime with his two partners: the slow-witted Brett and by-the-book Susie. They take on drug smugglers, art thieves, kidnappers, and con artists with bloody violence and gruesome deaths ensuing. The Marshals report to The Chief who gives them their assignments. There is little continuity between episodes in the first two seasons, with no running storylines. Eagleheart parodies many cop shows, most notably Walker, Texas Ranger. It portrays a great deal of graphic violence
Broadcast
Originally announced as a pilot episode, the show then appeared on the [as] schedule for three episodes, starting August 22, 2010. However, the show was then removed from the schedule and will now premiere Thursday, February 3, 2011 at midnight eastern.
Credits
Executive Producers:
David Kissinger
Michael Koman
Matt Magielnick
Troy Miller
Andrew Weinberg
Jason Woliner
Producer:
Starring:
Writers:
Michael Koman
Andrew Weinberg
Directors:
Community content is available under
CC-BY-SA
unless otherwise noted.