Adult Swim Premiere
April 15, 2006
Original Network
JNN
Seasons
1
Episodes
50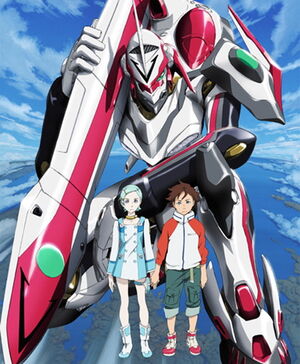 Eureka Seven, known in Japan as Psalms of Planets Eureka Seven is a japanese anime series by Bones. The series consists of fifty episodes which aired from April 17, 2005, to April 2, 2006, and debut on Adult Swim on April 15, 2006 and ended on April 28, 2007.
Plot
Eureka Seven tells the story of Renton Thurston and the outlaw group Gekkostate, his relationship with the enigmatic mecha pilot Eureka, and the mystery of the Coralians.
Characters
Gekkostate
Renton Thurston
Eureka
Maurice, Maeter, and Linck
Holland Novak
Talho Yūki
Matthieu
Hilda
Stoner
Ken-Goh
Mischa
Gonzy
Jobs
Woz
Hap
Gidget
Moondoggie
U.F. Force
Anemone
Lieutenant Dominic Sorel
Colonel Dewey Novak
The Council of the Sages
Ageha Squad
Captain Jurgens
Maria Schneider
Logica
Yauchi
Dr. Diamond
Civilians
Axel Thurston
Yucatan Iglasias
Charles Beams
Ray Beams
Tiptory
Norb
Sakuya
Morita
Dr. Greg "Bear" Egan
Dr. Sonia Wakabayashi
William B. "Will" Baxter
Sumner Sturgeon & Ruri
Adroc Thurston
Diane Thurston
Kes
Community content is available under
CC-BY-SA
unless otherwise noted.