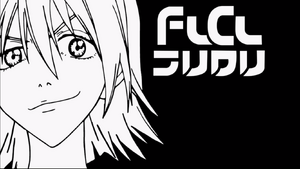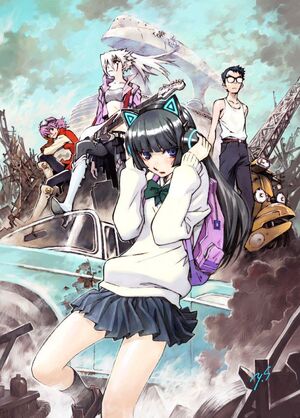 FLCL (Pronounced "Fooly Cooly") is a anime series produced by Production I.G., and Gainax, that originally aired on Adult Swim in 2003. The show revolves around Naota Nandaba,and his life after the appearance of Haruko Haruhaha, and Medical Mechanica.
On March 24, 2016 it was announced that Toonami would be involved in the co-production of 2 new seasons with Production I.G., totaling 12 episodes set to air in 2018.[1] This arrangement makes FLCL the third anime series Williams Street has co-produced behind Big O second season and IGPX: Immortal Grand Prix, and proceeds Blade Runner - Black Lotus.
More information was revealed about the project at Anime Expo 2017, confirming that the series will begin airing in 2018, and The Pillows, who made the music of the first series would return, ad both seasons will feature different stories.
The second season stars a girl named Hidomi who runs into a substitute teacher who looks like Haruka.
The show will feature staff from shows such as One-Punch Man, Mob Psycho 100, My Hero Academia, Naruto and more. The show will air dubbed on Toonami, and will simulcast with subs on Adult Swim's website.[2]
Both seasons will air as theatrical films in Japan, while still airing as two six episodes series in America.[3] Tickets to both films are set to be sold at the AnimeJapan 2018 event on March 24 and 25, and come with exclusive art. A limited set will come with a guitar pick keychain and a bonus "Access All Planets Pass" sticker.[4]
On March 20, Adult Swim released a press release on the sequels outlining their plots and giving them the names FLCL Progressive and FLCL Alternative, and announced Kari Wahlgren returns to reprise her role of Haruka from the original series' dub.
FLCL: Progressive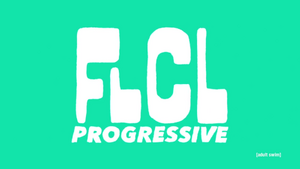 Up first, FLCL Progressive tells the story of 14-year-old Hidomi, her classmate Ide, and two otherworldly beings, "Jinyu" and "Haruha Raharu," who are determined to unlock their hidden potential. Mixed up in this is an all-powerful force known as "ATOMSK," a gorgeous vintage car… and a certain Vespa Scooter.[5]
FLCL: Alternative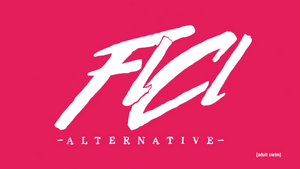 Following FLCL Progressive will be another new season, FLCL Alternative, which hands the series over to a totally different team of young creators who will redefine the meaning of "sequel." The series centers on the misadventures of 17-year-old Kana, a high school junior who spends her days hanging out with her besties, Mossan, Hijiri, and Pets. They live unremarkable lives, until the day a Mecha falls out of the sky, along with a strange woman named "Haruko." Her plans for Kana and her friends involve the force known as "ATOMSK." Kana will have to risk everything to decide whether or not to help… like she really has a choice![6]
Behind the Scenes
Home Video
In Japan, a special limited edition Blu-ray box set of both seasons was sold, the set also featured a DVD of The Pillows' performance at the 2018 Comic-con, and a T-shirt. In America. FLCL: Progressive was released on DVD on October 1, 2019 by Warner Bros. Home Entertainment (like other Adult Swim releases) with a Blu-ray collecting Progressive and Alternative scheduled to release on February 4, 2020, with Alternative receiving it's own solo DVD set the same day.
Credits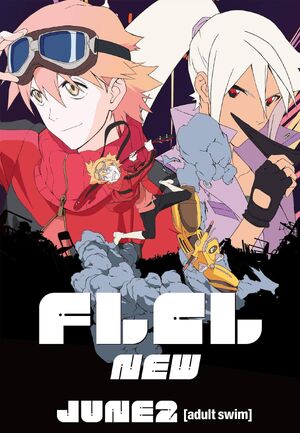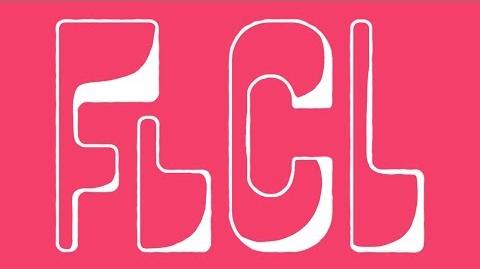 Chief Director: Katsuyuki Motohiro
Supervisor: Kazuya Tsurumaki (concept, director, storyboard artist on the original series)
Screenplay: Hideto Iwai
Original Character Designer: Yoshiyuki Sadamoto
Character Designer: Chikashi Kubota (animator on Flip Flappers, character designer, animator on Corpse Princess)
Mechanical Designer: Kiyotaka Oshiyama (Flip Flappers, Space Dandy)
Supervising Director: Katsuyuki Motohiro
Music: the pillows
Animation Production: Production I.G x NUT x REVOROOT
FLCL: Progressive
Directors:
Kazuto Arai (Flip Flappers animator)
Toshihisa Kaiya (World Trigger)
Yuki Ogawa (Saekano episode director)
Yoshihide Ibata (Attack on Titan: Junior High)
Kei Suezawa (To Love Ru: Darkness opening)
Hiroshi Ikehata (Robot Girls Z)
English Cast:
FLCL: Alternative
Directors:
Yutaka Uemura (The Mystic Archives of Dantalian)
Kiyotaka Suzuki (Karas episode direct, CG chief)
English Cast:
Sources
Community content is available under
CC-BY-SA
unless otherwise noted.