Line 3:
Line 3:
 
 
 

He is also known for co-creating ''[[Sym-Bionic Titan]]'' and directing the animated ''Hotel Transylvania'' film trilogy. Additionally, Tartakovsky was a pivotal crew member of ''The Powerpuff Girls'', and worked on other notable series such as ''Tiny Toon Adventures'' and ''Batman: The Animated Series''.

 

He is also known for co-creating ''[[Sym-Bionic Titan]]'' and directing the animated ''Hotel Transylvania'' film trilogy. Additionally, Tartakovsky was a pivotal crew member of ''The Powerpuff Girls'', and worked on other notable series such as ''Tiny Toon Adventures'' and ''Batman: The Animated Series''.

 
+
 
+

{{DEFAULTSORT:Tartakovsky, Genndy}}

 

[[Category:Writers]]

 

[[Category:Writers]]

 

[[Category:Directors]]

 

[[Category:Directors]]
---
Latest revision as of 20:16, 17 July 2019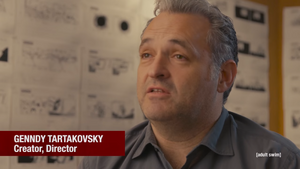 Genndy Tartakovsky (born January 17, 1970) is a Russian-American animator, director, producer, screenwriter, storyboard artist, comic book writer and artist. He is the creator of the Cartoon Network animated television series Dexter's Laboratory, Samurai Jack, and Star Wars: Clone Wars. He is currently in the development of creating Primal for Adult Swim in 2019.
He is also known for co-creating Sym-Bionic Titan and directing the animated Hotel Transylvania film trilogy. Additionally, Tartakovsky was a pivotal crew member of The Powerpuff Girls, and worked on other notable series such as Tiny Toon Adventures and Batman: The Animated Series.
Community content is available under
CC-BY-SA
unless otherwise noted.