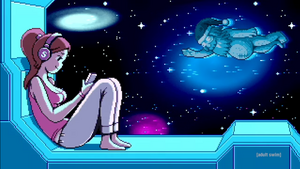 Lofi beats to relax/study to is a online trend in which Youtube users post a long video of ambient hip-hip beats with the purpose of allowing the listener to relax and or study to. Many channels run 24 hour streams devoted to the trend, which dates back to around 2013. Many videos are accompanied by anime visuals.
On July 31, 2019 the Adult Swim Youtube channel posted a one hour video in the same vein which features pixel art visuals of the Rick and Morty cast, animated by Paul Robertson.
Songs
Nightmares On Wax - On It Maestro
Mark Pritchard - Glasspops
Kamaal Williams - Salaam
Boards of Canada - Julie And Candy
Lee Gamble - Folding
Machinedrum - Rise N Fall
Drumcell - Vapor Sleep
Plaid - Light Rain
Nightmares On Wax - The Other Ship
Boards of Canada - Sunshine Recorder
Boards of Canada - Corsair
Tom Calvert - SUV
Plaid - Tak 1
Lee Gamble - Many Gods, Many Angels
Kamaal Williams - Rhythm Commission
External links
Community content is available under
CC-BY-SA
unless otherwise noted.