We're Getting Mutants in the MCU - The Loop
Play Sound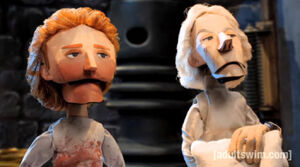 Mary Shelley's Frankenhole (often shortened to just Frankenhole) is a stop-motion animated show that premiered on Adult Swim June 27, 2010 and ended in March 25, 2012. The show was crated by Dino Stamatopoulos.
Plot
Frankenhole is about Victor Frankenstein, the mad genius who mastered immortality and now has also created an infinite number of portals (or Frankenholes) connecting his small, Eastern European village (that is teeming with monsters and supernatural forces) to every time period from the past and the future.
Developement
The show is the latest project from Moral Orel creator and Drinky Crow Show actor Dino Stamatopoulos. The show has been green lit for a ten episode first season.
The show is named for Mary Shelley, who wrote the book Frankenstein, and for the wormholes that allow for time travel in the TV series.
Cast & Characters
Victor Frankenstein (voiced by Jeff Bryan Davis) is an immortal genius and mad scientist. He is non-sociable, and has marital problems. He is bored with sexual activities and refuses to have sex with his wife, deciding to shoot off his testes instead. He had a troubled relationship with his father, and is unhappy with his dying wish to not be brought back to life.
Professor Polidori (voiced by Scott Adsit) is the immortal assistant and partner of Victor. He sometimes acts as a conscience for Frankenstein, but is quiet. He shares his last name with Shelley's acquaintance, John William Polidori.
Elizabeth Frankenstein (voiced by Britta Phillips) is Victor's immortal wife. She attempts to be loving and motherly but is in reality sexually starved, and is having an affair with Count Dracula. She is often at ends with her husband, expressing displeasure over the little time Victor devotes to the family.
Count Dracula (voiced by Scott Adsit) is Victor's rival, who is having an affair with Elizabeth, hoping to turn her into a vampire. He and Victor often argue, usually belittling Elizabeth in the process. He often exits the scene ny turning into a bat and flying away.
Frankenstein's Monster (voiced by Scott Adsit) is Victor's famous creation and servant. He is an alcoholic and very cynical, often expressing that his life and future are death. His left leg is Jewish, and can speak when detached.
Igor (voiced by Tigger Stamatopoulos) is Victor's hunch-backed assistant with a girlish, childish voice who usually supplies tools during Victor's projects. He is based on the character of the same name from the Frankenstein stories.
Heinrich (voiced by Scott Adsit) and Gustav (voiced by Mark Rivers) are the elderly, mortal sons of Victor and Elizabeth. Victor and Elizabeth don't care about them, although Elizabeth tries to be motherly. Despite their age, they act like small children and still call their parents Mommy and Daddy. Death decided that he shall never let the children die to torture Victor, who does not fear or respect Death.
Death, the grim reapper.
Credits
Creator:
Starring:
Jeff Bryan Davis

Britta Phillips

Tigger Stamatopoulos
Theme Song Composer:
See also