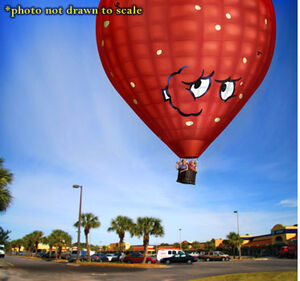 In 2010, the Adult Swim shop offered a Meatwad hot air balloon, it was offered after the Metalocalypse fountain (which at the time no one reportedly puechased), and came with a price tag of $70,000. No photo of the finished balloon currently exists, as it was intended to be built upon order.
Description
Let's assume that you are an Aqua Teen Hunger Force fanatic (granted) who has amassed a ridiculous fortune (because why not) and want to dump a huge chunk of change financing a series of fantastic voyages (obviously). How, exactly, does one begin such an undertaking? What's the crucial first step? Allow us to make a suggestion: use a meager portion of your vast, disposable wealth to purchase a big, honkin' Meatwad Hot Air Balloon of your very own.




Includes one fully customized hot-air balloon with Meatwad envelope and basket
Measures approximately 90,000 cubic feet in size
Purchase also includes a piloted, one-hour ride anywhere in the continental U.S. *
Consumer keeps balloon after the initial ride* *
Purchase is non-refundable, includes shipping (approx. 10 weeks shipping time)



Community content is available under
CC-BY-SA
unless otherwise noted.