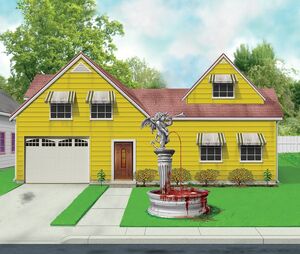 In 2010, the Adult Swim Shop offered a Metalocalypse fountain based on one owned by the band Dethklok. The fountain was to be custom made upon purchase, and xame with a price tag of $40,000. No photo of the completed fountain as of yet exists, and the dissolution of the Adult Swim Shop, makes it impossible to purchase one.
Description
Are you the world's biggest Metalocalypse fan?

No, really, their BIGGEST fan? Well, time to put your money where your mouth is by blowing all of that filthy, dirty cash you have lying around on this incredibly decadent purchase: a perfect replica of the fountain that decorates the nightmarish foyer of Dethklok's luxurious and deadly estate. Nothing will boast your dedication to animated death-metal more than this disgustingly lavish and entirely unnecessary conversation piece squatting in your front yard. It will also do your neighbors the courtesy of informing them that yes, you are 100% balls-out crazy. Both shipping (and, of course, blood) are not included.




CLICK HERE TO CONTACT US IF INTERESTED; SERIOUS INQUIRIES ONLY

Order a replica of Dethklok's fountain

Marble fountain; approx. 66″ in height, 96″ basin diameter
8-12 weeks production time
Ships anywhere in North America or the Caribbean
Price does NOT include shipping, will vary by location
$13,000 security deposit required upon purchase to weed out the jokers
Fountain is non-refundable
Seriously, this is real



Community content is available under
CC-BY-SA
unless otherwise noted.