We're Getting Mutants in the MCU - The Loop
Play Sound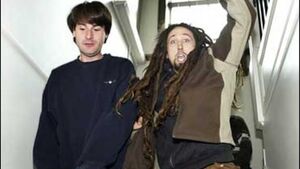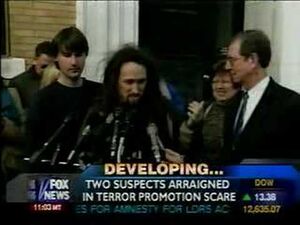 Peter "Zebbler" Berdowsky and Sean Stevens are two Boston area natives, responsible for placing LED Mooninite devices as a viral marketing campaign for Aqua Teen Hunger Force Colon Movie Film for Theaters, that would later be mistaken for bombs.
Berdovsky and Stevens were arrested on the day of the incident and charged with placing a hoax device to incite panic, a felony charge that carries a five-year maximum sentence, and one count of disorderly conduct, a misdemeanor. Both pleaded not guilty to the two charges and were later released on a $2,500 cash bond. At their arraignment, Assistant Attorney General John Grossman claimed that the two were trying to "get attention by causing fear and unrest that there was a bomb in that location." Michael Rich, the lawyer representing both men, disputed Grossman's claim, asserting that even a VCR could be found to fit the description of a bomb-like device. Judge Leary said that it would be necessary for the prosecution to demonstrate an intent on the part of the suspects to cause a panic. The judge continued, "It appears the suspects had no such intent ... but the question should be discussed in a later hearing. After making bail, Berdovsky and Stevens appeared for a live press conference. As Rich had advised them not to discuss the case, they spent the entire conference discussing and inviting press questions about hair styles of the 1970s, and ignoring any questions relating to the bomb scare.
On May 11, 2007, prosecutors decided not to pursue criminal charges against Berdovsky and Stevens, in exchange for community service and a public apology. Attorney General Martha Coakley cited the difficulty in proving intent to incite panic on the part of the two men and called the deal "an appropriate and fair resolution." Berdovsky and Stevens completed 80 and 60 hours of community service at the Spaulding Rehabilitation Center in Boston, respectively.
The city of Boston hired Zebbler for its 2014 New Year's celebrations to create a light show—and paid him US$50,000 for his services. When interviewed by the Boston Herald about the choice of Zebbler for the 2014 First Night, Boston Mayor Thomas M. Menino said, "We're a forgiving city." Attorney General Martha Coakley also felt that paying Zebbler for the light production in 2014 was a good choice. Coakley went on to defend the actions of law enforcement from 2007: "This was several years ago now. Those two young men had been hired by a company to do some guerrilla advertising. At the time, particularly in its proximity to 9/11, I think the City and Boston Police were very concerned. I think we responded appropriately at the time, but I think we also saw the company immediately make compensation to the City of Boston and to the Boston Police for the efforts involved.