We're Getting Mutants in the MCU - The Loop
Play Sound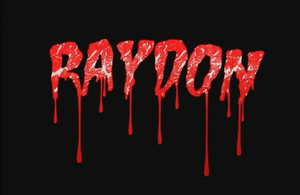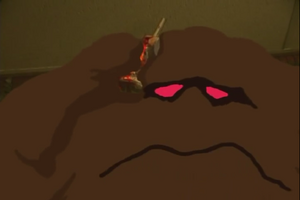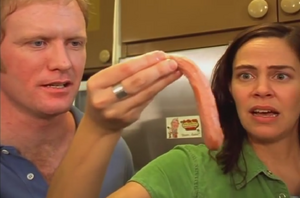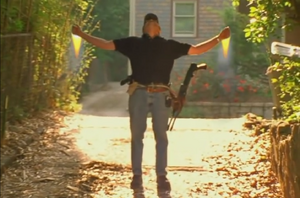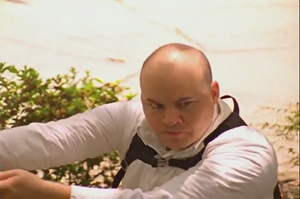 Raydon is a short film that appears in the special features of the Aqua Teen Hunger Force: Volume Four DVD.
In the film a Man named Dave, gets information on a crack in the wall of his house by an Inspector. The Inspector determines that the cause is Raydon, but he can't do anything about it. After telling him allegedly "forty-five times," he gives him the card of a man named Dr. Chin, and then takes flight.
Later Dave and his wife, Mary are polishing their guns, and she wants to know what the problem was, Dave mumbles what the inspector told him, and that he doesn't want to pay $200 for some "bullshit test," Mary convinces him when she implies that she might be pregnant and to celebrate she gets hot dogs.
However, the skin of the hot dogs have been peeled off,and the hot dogs replaced in the bags. The couple freak out because "the skin is the best part."
Dr. Chin tumbles into scene, and they head to the basement. Chin begins skinning wieners and then pours "wiener juice" on the floor in a pentagram, and asses that he must set fire to the entire room.
Dave cancels the rest of the operation and pays Chin $40 to never come back.
Later Dave exercises (while wearing a shirt with Ignignokt and Err on it) then calls his wife, but hears noises from the basement. He goes to investigate, and is attacked by Raydon, filling the house with blood, while Mary worries on the other end. Dave soon reassures her, only it's Raydon taking on Dave's voice (having killed Dave) asking her to bring some hot dogs on her way from work, with it's "beautiful skin."
Credits
Written and Directed by: Dave Willis, Matt Maiellaro
Produced by:

Jay Edwards

, Evan Lieberman
Cast:

Dave Willis
Matt Maillaro
Mary Kraft
Casey Willis
Sierra Sapunar (Dr. Chin tumbling)

Editor: Jay Edwards
Director of Photography: Evan Lieberman
Animation and Compositing:

Radical Axis, Inc

Todd Rednar
Carlos Maya
Craig Hartin

Sound Design: Riot Atlanta, Matt Melberg
Assistant Director: Tony Holley
Assistant Camera: Trey Twitty
Gaffer: Chris Campbell
Art Director: Tom Rogers
Key Hair & Make-up: Melissa Sandefur
Grip: Hilton Garret
Grip PA: Dan Pederson
Location Sound: Aron Siegel
Boom Operator: Sheri Walters
Production Assistant: Nick Ingkatanuwat, Nick Day, Charlsey Adkins, Becky Campbell
Camera Rentals: Eddy Von Mueller, PC&E
Film Processing & Transfer: John Peterson, Cinefilm
Thank You: Amanda Marks, Bill Burton, Lisa Willis, Vishal Roney, Dana Snyder
See also