We're Getting Mutants in the MCU - The Loop
Play Sound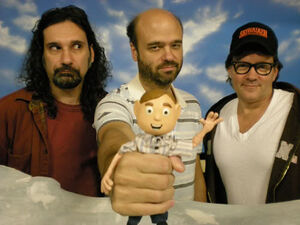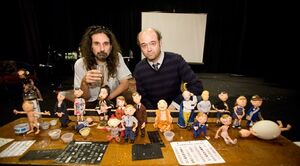 Scott Adsit (Born June 10 1974, in Circle Pines MN) has been associated with improvisation and sketch comedy when he was conjoined with the Second City comedy club in Chicago. during the time between '94 and '98 he performed with Rachael Dratch and Tina Fey. They all went on Saturday Night Live as cast members. Adsit was talked about in articles named "pinata Full of Bees" and "Paradigm Lost", as well as a comedy sketch called "Gump", which was performed with another comedian named Adam McKay. That performance was rated one of the best comic acts performed and Second City. During that time, Adist was shown on a PBS documentary about his performance at Second City. The documentary was titled Second to None (1997).
Between comic acts, Adist has been a movie actor and a voiceover for animated material. In the short-subject video "Reflections from the heart of a child", he played the father that's suffering from alcoholism and drug abuse. He as well did a voiceover for the pinball machine in "Medieval Madness". While he was still living in chicago he casted in his first television series. That series was called "Early Edition" (CBS 1996-200?). He had two roles in the show. He played a cab driver and a character named Grabowski. Adsit moved to Los Angeles in the mid '90's. When moved there he starred in films and tv shows.
His first big time production was The Mr. Show where he played various skits. He as well guest starred in the HBO series "Tenacious D" playing the complaining neighbor. He also played in the 1999 series starring Tenacious D, "The Greatest Song in the World". He played the devil. Adsit played in a large number of television series' like "Two Guys, A Girl and a Pizza Place" (ABC, 1998-2001), "Felicity" (Fox, 1998-2002), "Dharma & Greg" (ABC, 1997-2002) and "Ally McBeal" (Fox, 1997-2002). He has as well been in movie films including "The Italian Job" (2003), where he played an actor rehearsing his lines in a car; "The Terminal" (2004), where he played a cab driver; and "The Bad News Bears" (2005), where he played a Little League baseball umpire. Adsit also played small lined parts of the feature films "Without a Paddle"(2004), "Be Cool" (2005), and "Kicking & Screaming" (2005). In 06' he played in accepted as the father dropping his kids of at the collage.
Going back to the television story, he had a couple lines in "The Office". He played as a photographer in the episode "Conflict Resolution". Adding to that, he did a few voiceovers in Cartoon Networks Adult Swim series "Robot Chicken". He continued voiceovering animation when he voiced in Cartoon Network's Adult Swim series Moral Orel in '05. He played the voice for Orel's father.
Scott Adsit went back to Tina Fey and played a role in 30 Rock. Adsit played the part as Pete who is the producer of a fictional comedy sketch called "The Girlie Show". Unlike the actors in the opening credits, Adsit was not shown in every episode, But he also shared the screen with Alec Baldwin and Tracy Morgan.