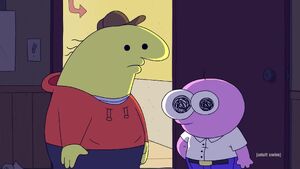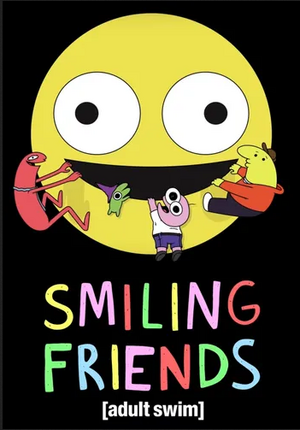 Smiling Friends is an Australian-American adult animated television series created by Zach Hadel and Michael Cusack for Adult Swim, which revolves around a small company dedicated to making people smile.
The pilot episode aired April 1, 2020, as a part of Adult Swim's 2020 April Fools' Day schedule alongside another work of Cusack's, YOLO: Crystal Fantasy. On May 19, 2021, Adult Swim and the show's creators announced that the series had been greenlit along with Royal Crackers and that it was set to premiere later in 2021. The first season contains 8 episodes, including the pilot. A panel dedicated to the series was held during the Adult Swim Festival on November 12, 2021, where co-creator Zach Hadel mentioned the show will premiere "within a few months", pushing the release schedule to 2022. The first season premiered on January 10, 2022, with Adult Swim airing all episodes of the season in one night despite initial plans for a weekly release.
Smiling Friends follows the employees of a small company dedicated to bringing happiness to a bizarre yet colorful world.
Trivia
The name of Dave Land may have originated from the Sleepy Cabin Podcast, Episode 26, wherein they make fun of a man named Dave for submitting a silly question to the group.