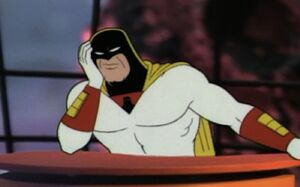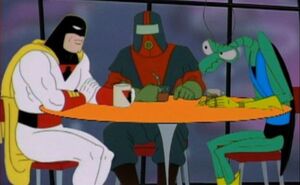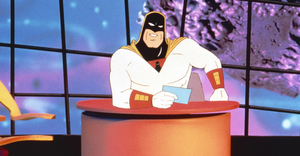 Space Ghost Coast to Coast is an American animated parody talk show. The show centers on numerous characters from the Hanna-Barbera cartoon series Space Ghost (TV series), in which they return to host a humorous talk show purportedly shot and broadcast from Space Ghost's studio (Ghost Planet Industries) on the Ghost Planet in outer space. It premiered on April 15, 1994 on Cartoon Network. Though originally intended to cater to a wide audience of children, teens, and adults, Space Ghost Coast To Coast became more bizarre and risqué in its direction, and transformed into the launchpad for what would become the Cartoon Network line of animated adult programming known as Adult Swim. SGC2C also had 6 spinoffs, Cartoon Planet, The Brak Show, Aqua Teen Hunger Force, Sealab 2021, Harvey Birdman, Attorney at Law and Perfect Hair Forever.
Behind the Scenes
SGC2C came into existence when media mogul and head of Cartoon Network Ted Turner wanted a program that would appeal to adults. His idea was a low-cost late-night cartoon series. He enlisted Mike Lazzo, the senior vice president of CN, to head the project. Lazzo decided the lowest costing method to making the animation was to take animation from a property they already had the rights to, and super-impose them over live action sequences. He decided to re-edit Space Ghost footage as part of a concept he'd had previously of a "Satirical David Letterman-style talk show, with a thoroughly clueless host asking celebrity guests a steady stream of stupid, non sequitur questions." Space Ghost was then conceived from this combination of method and concept, and became Cartoon Network's first original series, as well as the first animated talk-show in history.
SGC2C first aired on April 15, 1994 in the United States on the Cartoon Network. Early episodes of SGC2C were played alongside episodes of the original 1960's Space Ghost segments, which gave the show a regular half-hour format. Some airings of the original 1960's segments featured odd laugh tracks, in a surreal C2C-esque fashion. It was transitioned into an Adult Swim series with GPI's name transformation into Williams Street at the time of [as]'s conception in 2001. It ran new episodes on [adult swim] for three years until it went on permanent hiatus in 2004. Beyond the original run of the series, at least two additional episodes were announced and had their respective interviews filmed, but were never finished due to cancellation. After being cancelled, the show remained in reruns on [adult swim] until 2005.
Online Exclusive episodes worked as a renewal of the series in 2006. These shorts were featured on GameTap, the Turner owned online gaming pay-service. The first hint to this renewal was Space Ghost's appearance at E3 2006 with an interview of a Microsoft executive Peter Moore. Later that year, the episodes finally surfaced and ran regularly until 2007. To match GameTap's status as a gaming source, Space Ghost interviewed gaming icons as well as "GameTap's Artist of the Month". The jokes not relating to interviews were also often themed around video games. Ratings for the shorts were apparently low, and to match this, the last episode made facetiously references this fact. No further episodes have been made, putting SGC2C back into complete hiatus.
Although no new episode or shorts have been made, SGC2C continues to make appearances on [adult swim] itself with advertisements based off the series, as well as SGC2C characters making appearances in other WS series. Advertisements featuring C2C include a Tom Goes to the Mayor promo with a short interview with Tom and The Mayor, an ESurance interview with it's mascot Erin (which Space Ghost makes lewd remarks to), and a McDonald's commercial featuring an interview with a customer (that attempted to advertise the Dollar Menu). After 3 years of not airing on [adult swim] regularly, it came back in 2008 on [as]'s Old School Night, which featured two episodes back-to-back. Old School Night was soon taken off, although reruns of Space Ghost stayed (with only one episode instead of two at the very end of the block).
Format
Because the format is a talk-show within a show, the universe of the show has it's own fictional history alternate to it's real-life one. The talk-show was going to originally star Harvey Birdman and be entitled Birdman Coast to Coast. Lokar was originally supposed to be the co-star keyboard and musician. Moltar, notably, was the only person who was originally employed that stayed in the same position once SGC2C got off the ground. BMC2C fell through because not only was Harvey Birdman extremely bad at hosting, his powers (which stemmed from sun rays) conflicted with the filming schedule. Space Ghost, another washed up superhero, was contacted and eventually replaced Birdman. Lokar, who was injured during the pilot of BMC2C, ended up being replaced with Zorak (who was previously part of the behind-the-scenes crew). The pilot for SGC2C was apparently successful, as it was greenlit and went into production.
Celebrity Guests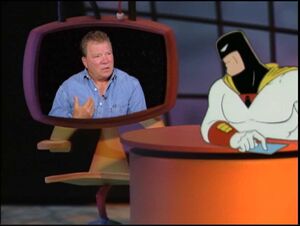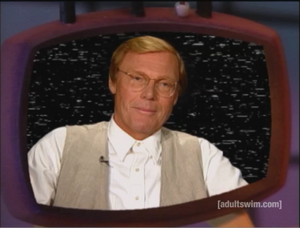 Each episode features numerous celebrity guests (or in some cases one or none at all), who are interviewed by Space Ghost and interacted with by the other characters of the show. Originally the crew hired acting students to ask celebrities questions at CNN bureaus while wearing an ill-fitting costume, this was done as there was no footage to show, making it difficult to present the idea to potential guests. The Bee Gees laughed the entire time when an actor in a Space Ghost suit began asking questions such as "Do you have enough oxygen?" in a Shakespearean accent as well as them swearing quite a bit throughout the interview that only 19 seconds of footage was usable.
They did this four or five times until deciding on merely asking guests questions through a phone patch, which would result in guests staring at bright lights, being told to "imagine" talking to a superhero.[1]
Intro
The original intro to the show featured psychedelic and flashy special effects on the moon and scenery outside Ghost Planet Studios, to the tune of "Hit Single". The C2C logo would show up in the middle portion, and at the end of the intro sequence it would zoom out to show C2C's windows. The intro sequence would then stop and go to the usual outside scenery, and it would then transition into the actual show with Space Ghost's inviso-appearance.
In the 3rd and 4th seasons, the intro changed to an all new and original 3D sequence. It would open with the title card, and zoom into the celestial scenery. Comets and planets would function and move within the camera. The camera would eventually find its way to a 3D rendered Ghost Planet and would crash through GPS's window and navigate through the hallways. Eventually, it would find it's way past Zorak and Space Ghost's dressing rooms and break through a door into where the show began. Initially, Tansut narrated this intro, but he was soon fired during the intro itself, leaving the intros afterward to just play the opening theme.
In the 5th Season the intro changed to a black screen with "Waiting" in white lettering. Every episode contained different music and/or sound effects to the screen. In the 6th, 7th, and 8th Seasons a regular intro mechanic was non-existent. Some episodes had no intros, and some had specifically themed introductions relevant to the episode content. Some had intros that weren't relevant at all, and one episode started in the context of it showing the brief ending of an episode that didn't exist.
Promotion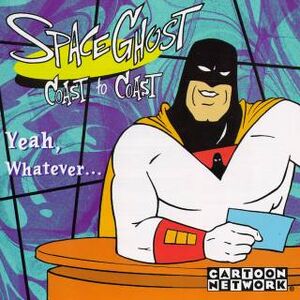 Prior to the series' debut, a soundtrack CD was released featuring music from Sonny Sharrock, and Eddie Horst released on Rhino Records, which also features a short description of the first 30 episodes. Another CD was made featuring Space Ghost giving random affirmations, that was intended to be used as drops for radio stations.
In 1996, a planetarium tour was produced and played featured Space Ghost on the set of the show introducing various episodes of Coast to Coast, the 60's Space Ghost and music videos.
Broadcast History
Cartoon Network (1994-2001)
Adult Swim (2001-2004)
GameTap (2006-2008)
DVD Release
Picture
Name and Release Date
Episodes and Features

Volume One

---

November 18, 2003
This two disc boxset collected 16 episodes from the show's first three seasons, 1994 to 1996.

"Elevator", "Spanish Translation", "Gilligan", "CHiPs", "Bobcat", "Punch", "Banjo", "Batmantis", "Story Book House", "Girlie Show", "Hungry", "Fire Drill", "Sleeper", "Jerk", "Urges", and "Explode"., original artwork, and "Zorak does Jingle Bells".

Volume Two

---

November 16, 2004
This two disc boxset collected 14 episodes from the third season, 1996.

"$20.01", "Lovesick", "Transcript", "Sharrock", "Boo", "Freak Show", "Switcheroo", "Surprise", "Glen Campbell", "Jacksonville", "Late Show", "Cookout", "Art Show", and "Woody Allen's Fall Project" Special features included "Andy's Pilot", a performance by Thurston Moore, the unedited version of Matt Groening's interview from "Glen Campbell", pencil test footage, bonus footage and Easter eggs, as well as commentary on every episode.

Volume Three: This is 1997

---

April 12, 2005
This two disc boxset collected all 24 episodes from the show's 1997 season, the fourth season, some of which were the originally aired extended versions.

"Rehearsal", "Gallagher", "Edelweiss", "Anniversary", "Zoltran", "Pilot", "Speck", "Zorak", "Switcheroo", "Mayonnaise", "Brilliant Number One", "Boo Boo Kitty", "Needledrop", "Sphinx", "Pavement", "Untitled", "Hipster", "Piledriver", "Suckup", "Damn", "Boatshow", "Telethon", "Dimethylpyrimidinol Bisulfite", and "Joshua." It also featured commentaries by cast members, new footage, deleted scenes, the 1995 World Premiere Toon-In, "President's Day Nightmare" (without any footage from the cartoons featured) and Easter eggs.

Volume Four: The 1998 Episodes

---

December 7, 2007
This single-disc set collected all 11 episodes from the show's 1998 season, the fifth season, one of which was the originally aired extended version.

The fourth DVD was released exclusively through the Adult Swim website, and was titled "The 1998 Episodes" rather than "Volume Four".It included the episodes "Terminal", "Toast", "Lawsuit", "Cahill", "Warren" 36-minute cut, "Chinatown", "Rio Ghosto", "Pal Joey", "Curses", "Intense Patriotism" and "Waiting for Edward". It also featured an unfinished episode guest-starring Steven Wright titled "Dinner with Steven" and one Easter egg.

Volume Five: From The Kentucky Nightmare DVD

---

September 11, 2008
This two disc boxset included all 16 episodes from 1999 to 2002, seasons six and seven, one of which was the originally aired extended version.

The fifth DVD was released exclusively through the Adult Swim website, and was titled "From The Kentucky Nightmare DVD" rather than "Volume Five". It included the episodes "Snatch", "Sequel", "Girl Hair", "Chambraigne", "Table Read", "King Dead", "Fire Ant" 22-minute cut, "Curling Flower Space", "Knifin' Around]", "The Justice Hole", "Kentucky Nightmare", "Sweet for Brak", "Flipmode", "Mommentary", "Mommentary: w/ Creators", "Mommentary: Jelly Bean". Extras included Snatch Alt Ending, Table Read Extra, Conan Raw Interview, George Lowe Record, C. Martin Croker Record, Promos, Busta Raw Interview, and 2 Easter eggs).
Originally, a sixth volume was supposed to be produced in 2009 or 2010, but nothing came about. It was to contain the final eighth season, and was rumored to be called various titles, the most popular being "The End is Near..." In late 2011, Adult Swim made available custom DVDs that people could make. This included every episode of Space Ghost, including the episodes omitted from the first volume as well as unedited episodes from Seasons 3, 5 and 6. However, this feature didn't last as the whole shop section on Adult Swim's website was removed entirely in late 2012.
Cast
Space Ghost (Full name Tad Ghostal) is the titular host of Space Ghost Coast to Coast. He claims to be dead, therefore a "Space Ghost", but the logical fallacies of this are the subject of ridicule from other guests and characters. He dons a signature white suit and black ear-less mask. He is regularly shown to be arrogant, showboatish, uninformed, oblivious to his own stupidity, and violent when provoked. His powers include invisibility courtesy of his Inviso-Belt, flight, and the ability to shoot powerful beams of various sorts from the Power Bands on his wrists.
Zorak is an anthropomorphic praying mantis. He leads the show's band and resides in a keyboard pod. He claims to be "pure evil", even if neutered by his imprisonment, and spends his time on the show making fun of Space Ghost, generally getting blasted in return for his efforts by Space Ghost's power bands. At other times however, his resistance to Space Ghost is more oblique, preferring to just ignore Space Ghost's quixotic tendencies in a quiet method of rebellion.
Moltar is a liquid molten lava man encased in a hazmat-like metal suit. He is the director of the show, controlling everything from a booth and single monitor. He's more placid about his predicament and enjoys watching CHiPs reruns on the monitors during the show, as well as talking to the guests before their interviews. He will often chide Space Ghost along with Zorak and become his sidekick in tormenting him.
Brak (and

Sisto

) are cat-like alien brothers. They were first shown as a parody of Beavis and Butt-Head. Brak eventually made more frequent appearances on Space Ghost Coast to Coast, often just yelling short phrases like "All hail Brak!!!" or "Hi my name is Brak!!". However his personally developed more over time, due to him starring in both SGC2C spinoffs.

Lokar

is an erudite, giant hominid locust villain. He's prone to violent outbursts and speaks in a faux-British accent. Lokar seems to harbor a grudge towards Space Ghost, and is in constant feud with Zorak (the other evil bug). The writers for the series described him as "flamboyantly gay."

Tansut

is an overweight and cowardly villain in a red costume and helmet. His outfit makes him appear much more menacing than he actually is, but fails completely at hiding his gut. He is easily scared and is often openly ridiculed for his cowardice. He does however have a dark side (which rarely comes out).

Metallus

is a villain who can only talk in a reverb-heavy metallic drone, rendering his every word incomprehensible, though other characters such as Moltar seem to understand him. He is a big metal guy with a blue vest and gloves, and he has a helmet with large, presumably ornamental "wings."

Black Widow

is a villain who has professed love for Space Ghost, much to the chagrin of the other villains.

The Original Way Outs

are are the show's band, led by Zorak. The show has never explained their origins aside from being former villains with the exception of Christy, now Space Ghost's prisoners similar to Zorak and Moltar, but are much less talkative and thus remain somewhat mysterious.

The Sorcerer
Owlie/Parko
Christy/Gobo

Harvey Birdman

is a super hero, and was the original host of the show before being replaced by Space Ghost. Since being fired, he has made one return as the host to fill in for Space Ghost when he was imprisoned. After this he has since returned to confirm his status as washed up and unemployed.

Chad Ghostal

is Space Ghost's evil twin brother distinguished from Space Ghost in physical appearance only by a crudely drawn Vandyck beard. He is a hipster, and is both extremely cool and evil. So much so in fact, that he makes Moltar and Zorak "look like total chumps." Chad loves Jazz music, hipster talk

Raymond

is Zorak's nephew. He was brought onto the show and Space Ghost took a liking to him, because of this Zorak ate him. Against all odds, Raymond persevered and managed to make brief appearances in two more episodes.

Kirk the Storyteller

is the venerable narrator/storyteller, presenting several episodes in retrospect and reinterpretation.
Credits
Cast
Andy Merrill as Brak,

Lokar

and other characters

Don Kennedy

as

Tantsit

Judy Tenuta

as

Black Widow

Scott Finnell

as

Harvey Birdman

Brad Abelle

as

Chad Ghostal
Sources