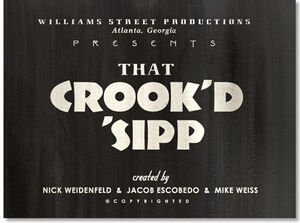 That Crook'd 'Sipp was a 15 minute pilot created and developed for Adult Swim by Jacob Escobedo, Nick Weidenfeld, rapper David Banner and Mike Weiss.
Plot
That Crook'd 'Sipp centers around the white, dysfunctional Beauregard family, who embody the spirit of the Old South. The family owns Frenchman's Bend, a mansion that sits upon their large and decaying estate. The family's old time ways are in stark contrast to the modern, crunk-fueled Dirty South culture that surrounds them. The Beauregards appear to be the only white people in the series.
Cast
Reception
That Crook'd 'Sipp debut on May 13, 2007 as a part of The Night of 1,000 Pilots to a generally favorable reception. The series was then greenlit for an additional six episodes for a complete first season. However, before production began on the new episodes, the entire show was scrapped, and the idea was then retooled into the special, Freaknik: The Musical, which aired March 2010.
External links
Community content is available under
CC-BY-SA
unless otherwise noted.