We're Getting Mutants in the MCU - The Loop
Play Sound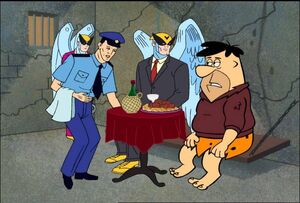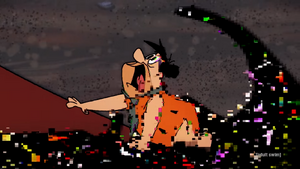 The Flintstones is an animated, prime-time American television sitcom that was broadcast from September 30, 1960, to April 1, 1966, on ABC. The show was produced by Hanna-Barbera. The Flintstones was about a working-class Stone Age man's life with his family and his next-door neighbor and best friend.
"Girlie Hair"
The Space Ghost Coast to Coast episode Girlie Hair, reused animation of the Fairy Godmother character from The Flintstones season 6 episode "Cinderellastone". She was repurposed as the Tooth Fairy.
"The Dabba Don"
The Flintstones characters, particularly Fred Flintstone featured prominently in the Harvey Birdman, Attorney at Law episode The Dabba Don, in which Fred is a mobster, in a parody of The Godfather. He tells Harvey he works in "construction", and at one point he leaves Quick Draw McGraw's severed head in his bed. Evelyn Spyro Throckmorton references The Flintstones theme song by stating "Flintstones, meet The Flintstones, they're the mobbish stone-age family from the villa of Bedrock, they're a page right out of Godfather Three". Wilma Flintstone questions where Fred's money comes from.
Harvey gets him off by proving that he takes on different personas when he takes hits to the head, however, it's discovered that the true boss is actually Barney Rubble.
Come and Learn with Pibby!
Fred appears again in the animated short Come and Learn with Pibby!, where he meets Pibby right before being consumed by a monstrous glitch.