We're Getting Mutants in the MCU - The Loop
Play Sound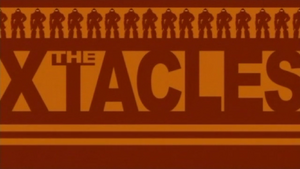 The Xtacles was a shortlived spin-off of "FriskyDingo," starring Xander Crews's private army of the same name. Only two episodes were produced, a Adult Swim declined to fund anymore episodes, coinciding with the closing of 70/30 Productions.
The series' only two episodes aired on November 9, 2008.
The Xtacles takes place on the Xtacles' flying aircraft carrier, the Xcalibur. The Xtacles are the private army of superhero Awesome-X (Xander Crews), who like their leader are outfitted with flight-capable, self-contained powered armor and an arsenal of high-tech weaponry. Xander Crews leaves the Earth aboard the spaceship of Killface's alien race at the end of Frisky Dingo, and since then the Xtacles have been simply milling about aimlessly, because Awesome-X's last orders were to wait for new orders. However, about a year after Awesome-X leaves for space, the Xtacles finally activate the Xcalibur's on-board AI, A.L.E.X., who informs them that a clause in their contract directly states that if Awesome X dies, is lost in space, or has sex to death while in space, all of their previous orders are cancelled.
Now led by their highest-ranking member, Jack Taggart, the Xtacles once again become a freelance private army of crimefighters. President Stan, unable to locate any other heroes for various reasons, is forced to depend on the Xtacles to solve crimes. However, the Xtacles prove to be catastrophically incompetent, making their attempts to complete the missions they are given humorously destructive and ultimately futile.