We're Getting Mutants in the MCU - The Loop
Play Sound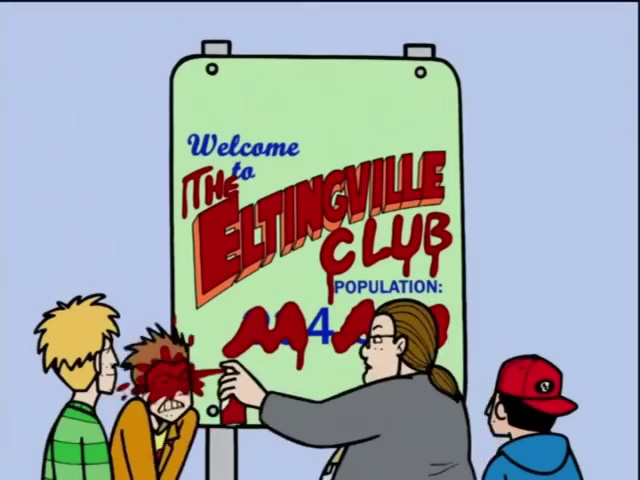 Welcome to Eltingville was a proposed television series that aired one episode on March 3, 2002 on Adult Swim. After the pilot aired, the show was not picked up.
The series is based around creator Evan Dorkin's comic book Dork!. It follows the lives of four members of The Eltingville Club, Bill Dickey, Josh Levy, Pete DiNunzio and Jerry Stokes, who are shown to be stereotypical nerds and losers. The club's purpose is not explained in the show, but the characters are seen participating in nerdy things, including a game of Dungeons and Dragons, and a Trivia-Off.
Bring Me the head of Boba Fett
The episode begins with the Eltingville Club playing a game of Dungeons and Dragons, where they are introduced as losers even in their own fantasy world. They argue with Jerry over who gets resurrected, wake up Bill's mom and Bill and Josh get into a fight after blaming each other. Afterward the members go through their business: Jerry has collected 300 letters of support to get a Captain Sulu show, Pete built a Thing with Two Heads model, and Bill failed to contact Gene Roddenberry from the beyond the grave. All of their accounts are put to shame by Josh's build up of his Sexy Sirens video tape until they actually view the tape; it turns out to be a video of The Hair Bear Bunch. Josh is made fun of by the others making him angry and causing him to choke Pete and Jerry. They all get into a fight, wake up Bill's mom (again) and Bill kicks Josh out of the club. The next day, Bill awakes from a nightmare which he called a freaky premonition, and decides to let Josh back into the club. The club reconvenes at the movie theater, where they plan on hopping movies, After two hours they were discovered and tossed out. After that, they go to a toy store, play video games, and steal a kid's toy at a fast food restaurant. They end their day at a comic book shop.
Inside the store, Josh and Bill discover a mint condition Kenner 12-inch Boba Fett from the 1980s, Wookiee scalps and all. They both jump to buy it from Joe, who sees the opportunity to take advantage of them and charges them $300 for the toy. Since the two cannot settle their differences, Josh challenges Bill to a trivia-off, with Fett as the prize. The contest rages on with questions until Bill defeats Josh by asking Who says bidi bidi bidi? Josh accidentally answers Jerry (who commonly repeats the phrase) although he knowingly meant Twiki from Buck Rogers. Josh declares that he's going home to get the money for the toy before Bill can. The two race back to their homes, causing many incidents on the way. Bill finds his mother's checkbook and Josh takes his mother's purse. When they get back to the store they learn Joe won't take checks nor credit cards, and the two get into a fight over Fett. They accidentally snap off his head resulting in the both of them having to combine their funds to purchase the expensive, now worthless toy. All four are then kicked out of the store. Bill angrily walks away with Fett's head and leaves Josh with the body. While Josh weeps on the ground, Willoughby breaks the fourth wall to ask if this is the end of the Eltingville Club?!
Characters
Bill Dickey (voiced by Jason Harris) - President of the Eltingville Club.
Josh Levy (voiced by Troy Metcalf) - An overweight blowhard, who frequently fights with Bill.
Pete DiNunzio (voiced by Larc Spies) - A horror movie addict with a Staten Island accent.
Jerry Stokes (voiced by Corey Brill) - A fantasy fan and the group's Dungeon Master.
Credits
Director: Chuck Sheetz
Writer: Evan Dorkin
Executive Producer: Evan Dorkin, Sarah Dyer and Mike Lazzo
Starring
Jason Harris as Bill Dickey and Marv
Troy Metcalf as Josh Levy
Larc Spies as Pete DiNunzio and Sekowsky
Corey Brill as Jerry Stokes, Randall and Len
Glenn Jones as Joe
MC Chris as Ward Willoughby and Wilson
Alicia Sedwick as Mrs. Levy, Mrs. Dickey and Ensign Xena
Evan Dorkin as Ironjaw
Tara Sands as Jane Dickey, Ensign Buffy and Jack