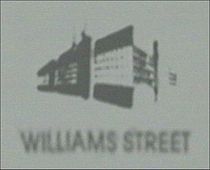 Williams Street is a production company on Cartoon Network. Williams Street was formerly known as Ghost Planet Industries after Space Ghost's show in 1994-1999. All of Adult Swim is produced by Williams Street. The two people that are mainly responsible for watching over the corporation is Mike Lazzo and Keith Crofford.
The name of the company is mainly named after the street that it lies on which is Williams Street in Atlanta, Georgia. This company is in the same building of Ted Turner who founded TBS, CNN and Cartoon Network.
The Building in the logo is a an animated version of the studio it started in. The building in real life is just a little different then the logo on tv. For Example: The building says TBS on the front, the building is much longer, it's more elevated in the center. The companies' building is right across the street from TBS headquarters.
The audio in the background of the logo is created by Jack Webb's production company Mark VII Limited.
The Williams Street logo is shown for about five seconds, and old shows are occasionally followed by a vanity card of a skull and crossbones with the old Cartoon Network symbol on the mouth, which was ended in 2004. The symbol was not used until after Ghost Planet Industries.
Series
Movies
Other
Music
In 2007 Williams Street created their own music company which is Williams Street Records. They have released music that is not related to their shows. Jason Demarco is the producer of the record label.
In February '07 William Street and Adult Swim joined together with an independent hip-hop label called Definitive Jux.
The Dethalbum - Dethklok (2007)
The Diary of an American Witchdoctor - Witchdoctor (2007)
Awesome Record, Great Songs! - Tim Heidecker and Eric Wareheim (2008)
The Venture Bros.: The Music of J.G. Thirlwell - J. G. Thirlwell (2009)
Dethalbum II - Dethklok (2009)
Another Big Night Down the Drain... - Cheeseburger (2011)
Cerebral Ballzy - Cerebral Ballzy (2011)
R.A.P. Music - Killer Mike (2012)
Dethalbum III - Dethklok (2012)
If I tell U - Phaseone (2013)
Compilations
Chocolate Swim (2006, co-release with Chocolate Industries)
Definitive Swim (2007, co-release with Definitive Jux)
Aqua Teen Hunger Force Colon Movie Film for Theaters Colon the Soundtrack (2007)
Warm & Scratchy (2007)
Ghostly Swim (2008, co-release with Ghostly International)
World Wide Renewal Program (2008)
African Swim (2008)
Have Yourself a Meaty Little Christmas (2009)
ATL RMX (2009)
Adult Swim Singles Program 2010 (2010)
Metal Swim (2010)
Adult Swim Singles Program 2011 (2011)
{UNCLASSIFIED} (2011)
Adult Swim Singles Program 2012 (2012)
Garage Swim (2013)
Adult Swim Singles Program 2013 (2013)